Following sell out runs in Brighton and Manchester, Operation Black Antler, co-created with celebrated site-specific theatre company Hydrocracker, arrives at London's Southbank Centre this April.
Go undercover for one night to infiltrate a covert protest group active on the fringes of British society. In Operation Black Antler, you create a new identity as part of a small team and then head out to join an undercover operation. Moving from the safe house to your target location, you can choose to take part in a series of challenges.
You must decide what is and isn't acceptable in the name of security while getting the job done. What will you do when the power is in your hands?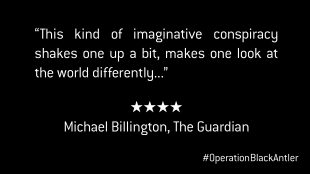 Book your tickets now via the Southbank Centre box-office.
More reviews for Operation Black Antler
Thought provoking and superbly performed immersive experience with a political charge
The genius of Black Antler is it doesn't tell us what to think 5/5
★★★★★ Uncomfortable at times and outright disturbing at others… This truly gripping piece of theatre will have you gripped
★★★★★ The cleverest and most challenging I have ever taken part in
★★★★★ As the show gets going, I become fully immersed, at times even forgetting that the situation is make-believe, which is a real credit to some of the fantastic actors… As the show ends, we wish we had more time. The beauty of Operation Black Antler is in the complete unknown
★★★★ Being outside your comfort zone is what Black Antler is all about… Unique, slightly surreal and unafraid to tackle taboos, it's an experience you're unlikely to find again
This reviewer's advice is simple: go along for the ride!
It is like a shot of adrenaline straight to your moral compass
Circles and Stalls
A fascinating thrill ride that is very impressively put together and performed
Operation Black Antler is a work by Blast Theory and Hydrocracker. Originally co-commissioned by Ideas Test and Brighton Festival, Operation Black Antler has been developed with support from Arts Council England and in partnership with Dramatic Resources and Chalk Cliff Trust.