Operation Black Antler is an immersive theatre piece that invites you to enter the murky world of undercover surveillance and question the morality of state-sanctioned spying.
In Operation Black Antler you are given a new identity as part of a small team; you are briefed and then sent into an undercover operation. You must meet, build empathy with and ultimately try to win the trust of someone whose political and moral views may be the polar opposite of our own. What will you do when the power is in your hands?
For 40 years British police officers have been undercover inside protest groups. Scandals such as Wikileaks, the Snowden affair and the revelations about the Special Demonstration Squad show that secret forces within the state have little respect for law.
Co-created with critically acclaimed immersive theatre company Hydrocracker, Operation Black Antler seeks to explore this moral corruption as well as the wider ethical questions of when surveillance is justified.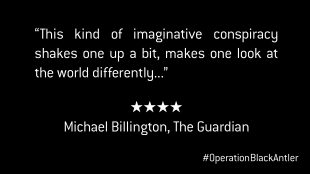 More Reviews for Operation Black Antler
Thought provoking and superbly performed immersive experience with a political charge
The genius of Black Antler is it doesn't tell us what to think 5/5
★★★★★ Uncomfortable at times and outright disturbing at others… This truly gripping piece of theatre will have you gripped
★★★★★ The cleverest and most challenging I have ever taken part in
★★★★★ As the show gets going, I become fully immersed, at times even forgetting that the situation is make-believe, which is a real credit to some of the fantastic actors… As the show ends, we wish we had more time. The beauty of Operation Black Antler is in the complete unknown
★★★★ Being outside your comfort zone is what Black Antler is all about… Unique, slightly surreal and unafraid to tackle taboos, it's an experience you're unlikely to find again
This reviewer's advice is simple: go along for the ride!
It is like a shot of adrenaline straight to your moral compass
Circles and Stalls
A fascinating thrill ride that is very impressively put together and performed
It is the power and subtlety of Operation Black Antler that ensures we really do become deep swimmers in a very murky world
Live Art Alive
This project is of enormous importance and an extremely high standard… Exceptionally rewarding not to mention surprising
Audience Bulldog
A site specific play which asked poignant questions even more relevant today than when it was written on whether it is right to infiltrate and to survey
An immersive drama about police surveillance and political extremism, topics that are both sensitive and relevant
---
For more information on the development of Operation Black Antler, read a blog by Blast Theory artist Matt Adams. You can learn more about the themes explored in Operation Black Antler in Undercover with Rob Evans and Paul Lewis, Liberty Human Rights: No Snooper's Charter, Police Spies Out Of Lives.
Operation Black Antler is a work by Blast Theory and Hydrocracker. Co-commissioned by Ideas Test and Brighton Festival, Operation Black Antler has been developed with support from Arts Council England and in partnership with Dramatic Resources.